Drain Cleaning and Clog Removal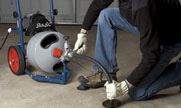 We are the top rated sewer and drain cleaner in Easton PA, Lehigh Valley, and Phillipsburg NJ.
Main Drains
The Main Drain in a building is the piping inside and outside in which all other drain lines connect. If your main drain is clogged every drain in the home will be backed up based on height and flood-rim (first place the waste water will spill out).
Toilets
Toilets clog for a variety of reasons.  The toilet trap itself may be clogged or the piping underneath may be clogged. Sometimes the main drain can be clogged very far away from the clogged toilet.  It is vital to have an experienced mechanic with the right diagnostic techniques to figure out where the problem lies.  Let our experienced mechanics properly diagnose your drain issue, saving you time and money!
Bathtubs
Bathtub clogs are inconvenient and gross.  No one wants to stand in waste water while they shower and bacteria in the water can make you sick.  Call today to have our experts clear your bathtub drain so you can get clean instead of getting grossed out!
Showers
Showers clog because of hair and soap scum. A shower backup can quickly turn into a flooded bathroom and house.  Call today and let our experts get your shower flowing great again instead of overflowing!  Call Now
Kitchen Sinks
A clogged kitchen sink can bring home life to a grinding halt. Gross, bacteria filled wastewater where you disinfect your dishes for eating is dangerous.  Call our experts today to properly diagnose and fix your kitchen sink clog.
Laundry Rooms
Nothing is more unnerving than running a load of laundry and getting a flooded laundry room instead.  Call the professionals today and let our experts get your laundry moving again with a nice clear drain!