Full Master Bathroom Renovation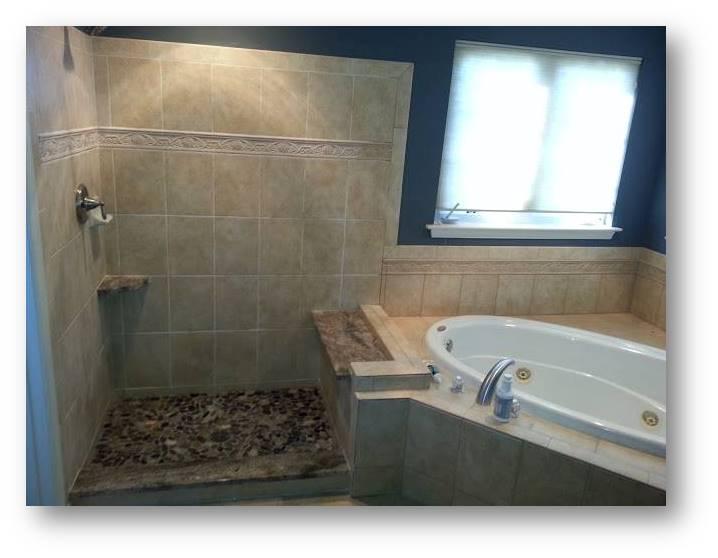 Project Location
Forks, PA
Service Performed
Separate Bathtub and Shower Bathroom
Project Description
Indulge in the ultimate luxury and comfort with a custom-built master bathroom designed to create a truly remarkable bathing space. Recently, we had the pleasure of constructing a stunning custom bathroom for a satisfied customer in Forks, PA, offering a sanctuary of relaxation and style.
One of the standout features of this full master bathroom is the separate bathtub and shower arrangement, providing optimal functionality and convenience. When considering a separate bathtub and shower setup, it's essential to allocate approximately 40 square feet to ensure ample space. Our team expertly designed and built a custom tile shower, complete with a comfortable bench seat, allowing you to unwind and rejuvenate in complete luxury.
The centerpiece of this exquisite bathroom is the soaking bathtub, meticulously crafted to offer a spa-like bathing experience. Deeper than regular tubs, this soaking bathtub promises unparalleled relaxation and tranquility. With a length of approximately 60 inches, it meets the standard bathtub size, but we also offer options such as free-standing bathtubs to suit your preferences. For optimum comfort, an oval bathtub design is often recommended, providing a delightful and ergonomic bathing experience.
To safeguard the walls surrounding the soaking bathtub and enhance its aesthetic appeal, we skillfully added tile around the tub. This not only adds a touch of elegance but also provides practical protection against moisture and potential damage.
Our commitment to creating an ambiance of serenity extends to customized lighting solutions. Transform your bathroom into a serene oasis with our custom lighting options, carefully selected to enhance the overall atmosphere and create a truly inviting space for relaxation and unwinding.
Embrace the luxury and comfort you deserve with a custom-built master bathroom. Contact us today to embark on your journey towards a blissful bathing experience.
Request Estimate