Tankless Hot Water Heater Installed in a Garage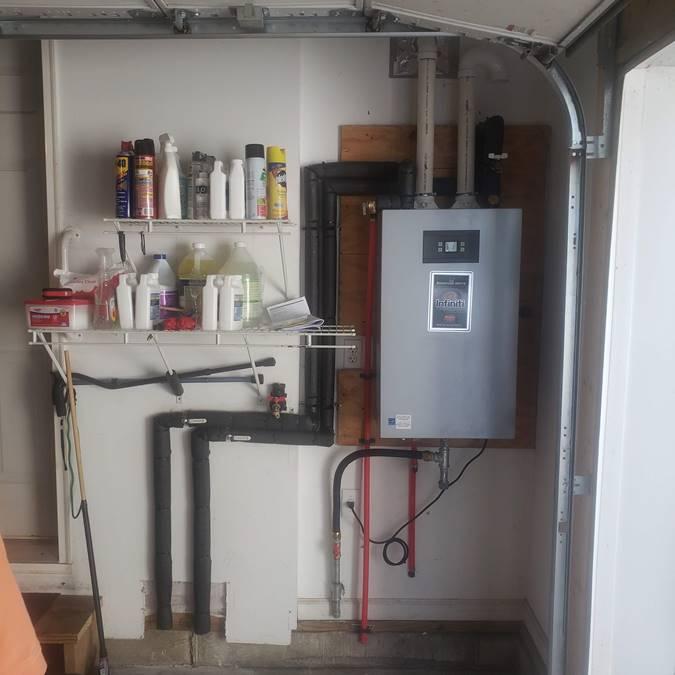 Project Location
Tatamy, PA
Service Performed
Tankless Water Heater Installation
Project Description
Looking for efficient and reliable hot water solutions for your garage? We specialize in installing tankless water heaters in garages, ensuring a constant supply of hot water without the need for bulky storage tanks.
With our tankless water heater installation service, we prioritize energy efficiency and space optimization. Whether your garage is used for automotive purposes, as a workshop, or for storage, our professional plumber will assess your specific needs and expertly install a tankless system tailored to your requirements.
One crucial aspect we address during the installation process is ensuring the exposed plumbing in your garage is properly insulated, especially if the space is not climate controlled. Our team understands the importance of preventing frozen or burst pipes, and we take the necessary steps to insulate your exposed plumbing, safeguarding it from temperature fluctuations and potential damage.
By combining cutting-edge tankless water heater technology with our insulation expertise, we offer a comprehensive solution that maximizes energy efficiency, space utilization, and protection for your garage plumbing system. Trust our skilled plumbers to deliver top-notch installation services, providing you with a reliable and efficient hot water solution in your garage.
Contact us today to schedule a consultation and experience the benefits of a tankless water heater installation tailored to your garage's specific needs. With our focus on energy efficiency, space optimization, and expert insulation, we're your go-to plumbing professionals for dependable and cost-effective solutions.
Request Estimate