Unveiling the Powerhouse: The #1 Selling Commercial Bock Water Heater with Carlin Oil Fired Technology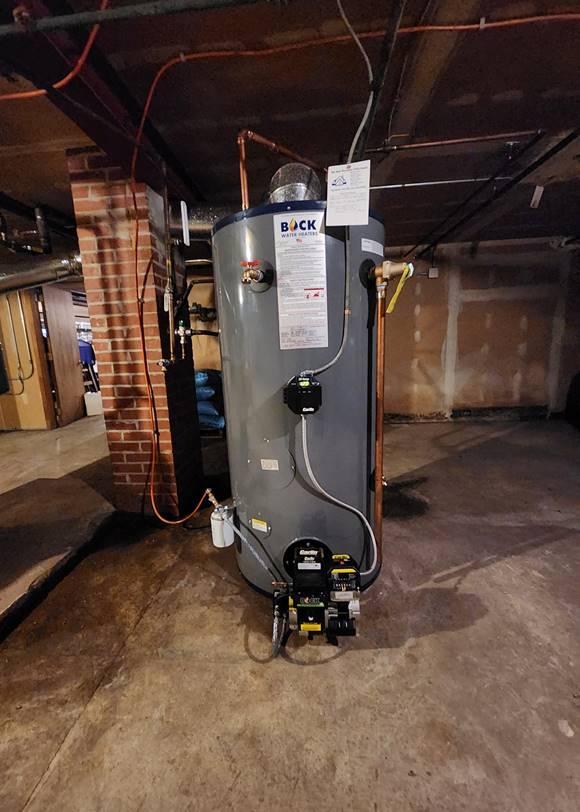 Project Location
Easton, PA
Service Performed
Commercial Water Heater Installation
Project Description
When it comes to commercial water heating solutions, there's one name that stands out as a true industry leader: Bock Water Heaters. And if you're looking for a water heater that doesn't just meet expectations but exceeds them, allow Applause Plumbing and Heating to introduce you to the #1 selling commercial Bock Water Heater, powered by Carlin oil-fired technology.
Efficiency Meets Reliability: The Bock Advantage
Bock Water Heaters has been a trusted name in the industry for decades, renowned for its commitment to quality, innovation, and customer satisfaction. The partnership with Carlin, a leading name in oil-fired burners, brings forth a product that embodies efficiency, reliability, and cutting-edge technology.
Unmatched Performance
The heart of this powerhouse water heater lies in its Carlin oil-fired technology. Designed to provide unmatched performance, this cutting-edge system optimizes fuel combustion to ensure maximum heat transfer efficiency. This means rapid heating, reduced energy consumption, and significant cost savings – a combination that spells success for businesses looking to streamline their operations.
Versatile Applications
From restaurants and hotels to manufacturing facilities and apartment complexes, the Bock Water Heater with Carlin oil-fired technology caters to a diverse range of commercial applications. Its versatility, coupled with its ability to deliver consistent and reliable hot water supply, makes it the go-to choice for businesses that require uninterrupted service.
Durability for the Long Haul
A commercial water heater should be built to withstand the test of time, and the Bock Water Heater doesn't disappoint. Crafted with robust materials and precision engineering, this water heater is designed to stand up to the demands of commercial usage, ensuring a long service life and minimizing downtime.
Sustainability at Its Core
In an era where sustainability is a top priority, the Bock Water Heater with Carlin oil-fired technology doesn't just prioritize efficiency – it also adheres to the highest environmental standards. Its optimized fuel combustion reduces emissions and lowers its carbon footprint, aligning perfectly with businesses' green initiatives.
Conclusion
In the ever-evolving world of commercial water heating, the Bock Water Heater powered by Carlin oil-fired technology stands tall as the reigning champion. With its unparalleled efficiency, versatility, and unwavering performance, it's no surprise that it has earned the title of the #1 selling water heater in North America.
Whether you're in the hospitality sector, manufacturing industry, or any other business that demands reliable hot water, the Bock Water Heater with Carlin oil-fired technology is a beacon of excellence, promising seamless operations, reduced costs, and a brighter, more sustainable future. Let Applause Plumbing and Heating install your next commercial water heater. Schedule an appointment today by contacting a plumbing and heating specialist at Applause Plumbing and Heating. 
Request Estimate